Guad at a Glance: reasons to be excited
The home of the Freshmen!

Lifelong friendships begin here.

Great location (overlooking the Hunthausen Activity Center and football fields).

Lots of activities and opportunities for study and socializing.
Guad at a Glance: major features
Room sizes:  doubles and triples.

(Triples offer a separate bathroom apart from the communal one available to everyone on the floor. This bathroom has a sink, toilet, and shower) .

Each room equipped with a personal sink!

All rooms stocked with bedframes, mattresses, closets, and desks.

Community bathrooms with plenty of showers and toilets on every floor. 

Community laundry rooms with washers and dryers. 

Newly renovated community kitchen. 

Basement lounge area stocked with a pool table, a ping pong table, comfy couches, and a big TV.

Peer Ministers (PMs) and Resident Assistants (RAs), who foster an inclusive space and fun activities for all to enjoy. 

The "Fish Bowl" (i.e., a community space with couches, chairs, desks, and a piano, together with 360 degrees of windows and lots of natural light).

A chapel for prayer and spiritual reflection.
Guadalupe Overview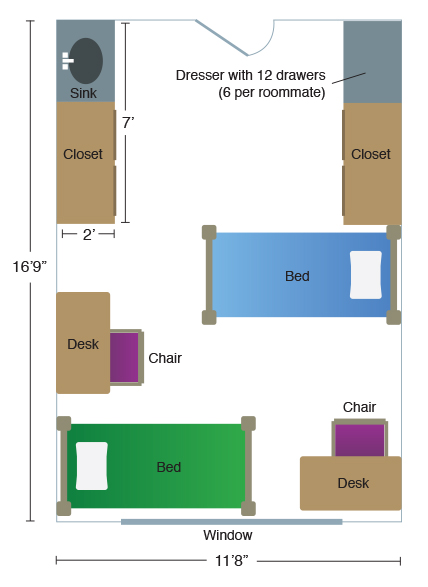 Designated primarily for Carroll freshmen, Guadalupe's design lends itself well to providing residents with their own living space while allowing all freshmen to experience their first year at Carroll together. Known as "Guad" to its 350 residents, this hall has plenty of amenities, loads of activities, and is a community unto itself.
The St. Mary Wing is an all-female wing that offers double-occupancy rooms for women on four floors with a triple occupancy room on each floor. The St. Joseph Wing provides the same options on three floors for men.
The formal lounge in Guadalupe Hall, lovingly referred to by students as the "Fish Bowl," is a spacious "living room" where students gather for meetings, studying, as well as music and relaxation. Guadalupe Hall also houses the Wellness Center, a convenient place for all Carroll students to access counseling and health services.
Basic amenities in each room include closets/wardrobes, twin XL bed, dresser, desk and chair. Most rooms also have a sink. Shared restroom and shower facilities are available on each floor in Guadalupe. There is also a computer lab, study spaces, a community kitchen and laundry facilities throughout the building.
As with all of our residence halls, each residential floor is also home to a Resident Assistant (RA) who serves as a resource for students as they adjust to life on campus. RAs also work to plan a number of activities in the residence halls to build community - from movie nights to study breaks to the famous "Guad Hill Slip-N-Slide."