Borro at a Glance: reasons to be excited
A mix of classes, inclusive of sophomores, juniors, and seniors.
Lifelong friendships continue to be cultivated here.
Great location--right next to the mailroom, the Carroll College Campus Center (CCCC, aka the "Cube"), and the building wherein Academic Advising, Residential Life and Housing, and the Math Department are located.
One of the quietest buildings on campus.
Houses a diverse student population.
Borro at a Glance: major features
Room sizes: singles, doubles, and triples.
All rooms stocked with bedframes, mattresses, closets, and desks.
Most rooms stocked with personal sink!
Community bathrooms with plenty of showers and toilets on every floor (newly renovated downstairs bathroom!)
Community laundry room with washers and dryers.
Community kitchen.
Newly renovated basement lounge area, complete with games, desks, couches, chairs, beanbags, and a brand new big screen TV.
Peer Ministers (PM's) and Resident Assistants (RAs), who foster an inclusive space and fun activities for all to enjoy.
A chapel for prayer and spiritual reflection. 
Borromeo Overview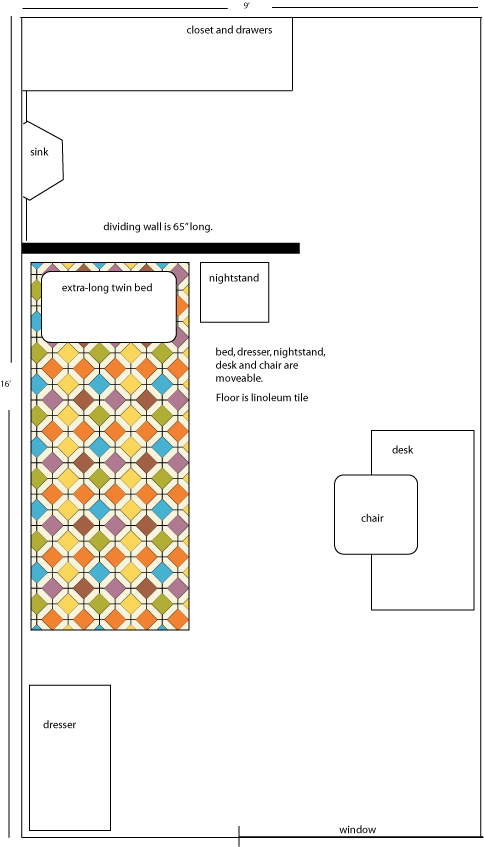 Borromeo Hall is offered for second year and above students. Borromeo was originally built for students entering the priesthood and designed for a simple, austere lifestyle. The reputation as the 'quiet' residence hall has been maintained over the years.
Students who choose to live in Borromeo prefer the quiet atmosphere and single rooms and enjoy its close proximity to classrooms, labs, dining hall, and students activities. Borromeo also houses offices, classrooms, and is home to the Talking Saints Forensics team.
Basic amenities in each room include closets/wardrobes, single bed, dresser, desk, and chair. Shared restroom and shower facilities are available on each floor.
Below is just one example of how to arrange the room. The desks and chairs are movable as well as the beds to try out different combinations that will fit your style!