Carroll College's budding Entrepreneur in Residence Program is doing just what it set out to do—creating entrepreneurs! The program was initiated in the fall of 2014 to expose students to real-world practical instruction and mentorship to help advance nascent business ventures into viable companies. In its second year of the program, Carroll was fortunate to have John McCarvel '79, CEO of Vitality Corporation and former CEO and President of Crocs, Inc. serve as mentor and advisor for the program.
Carroll Magazine sat down for a question and answer session with students whose businesses were successfully launched that academic year due to hard work and perseverance on their part, and valuable and constructive guidance from EIR John McCarvel.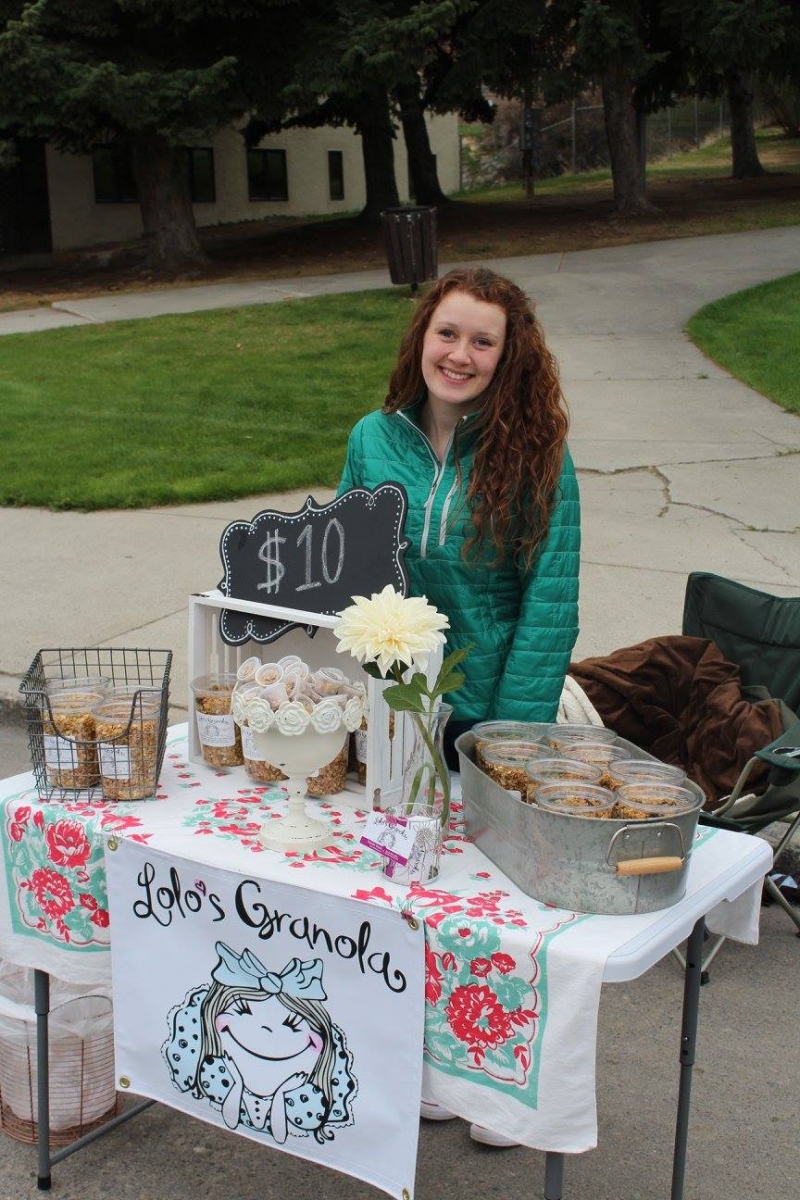 Natalie Kassa '18 from Spokane, Washington, graduated with a major in business administration with concentrations in management, marketing, and sports management. She was also a four-year student-athlete on the Carroll College volleyball team. Her business, Lolo's Granola, began in 2012 in Spokane when her little sister, Laurel, (nicknamed "Lolo"), was fundraising for her eighth-grade class trip to Washington D.C. Her sister and mother perfected a granola recipe and have been selling it to customers in their community ever since. Last year, Natalie brought Lolo's Granola to Helena as part of the Entrepreneur in Residence program. (As a side note, Laurel will be attending Carroll beginning this fall so Lolo's Granola will continue to serve their loyal customers in the Helena area.)
Joe Stoutt '16 and Ty Irving '16 are the business minds behind Big Skylines Sock Company, a designer athletic sock company. Joe is from Carnation, Washington, and graduated in the spring of 2016 with a degree in business administration with a concentration in marketing and a minor in communications. Joe, from Spokane, Washington, graduated with a business administration degree with concentrations in marketing and management in December 2016. Joe and Ty began kicking around the idea for skylines socks during their sophomore year but it wasn't until they took the EIR course their senior year that the pieces really fell into place.
Tell me how the idea for your business came about. 
Joe Stoutt: The idea was inspired by the company Strideline, who previously created skyline socks for major cities such as Seattle. Admittedly, our skyline socks are a secondary product, but these larger companies would never bring the trend to a niche market like Montana. We knew how crazy Montanans are about where they live, and for good reason. We knew it would sell, and Ty and my skills came together. We actually originally had the idea our sophomore year while living in Trinity. At the time, however, we did not have the know-how to make the idea a reality.
How did Carroll's Entrepreneur in Residence program help further and influence your business plan?
 Natalie Kassa: First of all, the program was led by John McCarvel, a very successful, experienced and knowledgeable businessman. He provided enthusiastic advice, direction and support that further motivated and inspired me to grow Lolo's Granola. I was also surrounded by some phenomenal business professors who provided additional insight. My classmates had big and grand ideas of their own, and it was such a wonderful experience to advance our own individual businesses alongside one another.
Joe Stoutt: If it wasn't for the program, I don't believe Big Skylines ever would have happened. We knew the socks would sell but we weren't certain that anyone would be willing to fund us or manufacture for us. When we met with John McCarvel the first time, he told us he loved the idea. From that moment on, we have been full speed ahead for the past 18 months. Working with John was awesome; he filled the gaps that we couldn't when we came up with the idea a few years prior. All the big questions we had, he had the answers to. There were tons of other people who were willing to help us as well, including the support from basically the entire Carroll student body, Papu Rincon at fourOsix, Patty White, our professors Annette (Ryerson) and Julie (Mull), and many, many more.
Any surprises along the way?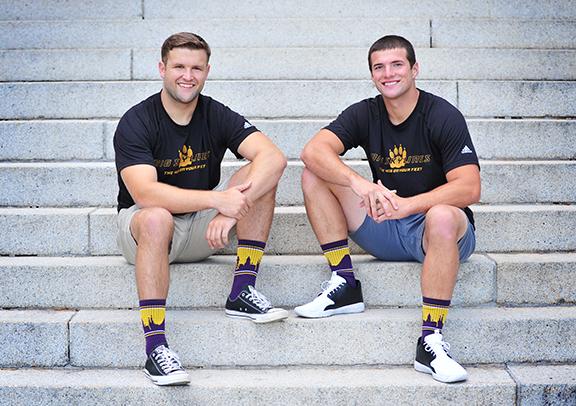 Ty Irving: We get surprised everyday doing this. There have been some bad surprises and good surprises but ultimately, the sheer amount of support from friends and family and the response from the consumer market towards our products has been bigger than we ever imagined.
Joe Stoutt: Also, turns out, working with one of your best friends is hard. Ty and I had to develop an entirely different relationship with one another, one that is more professional, to separate work and play. With that being said, while it can be tough, working so closely with such a good friend is one of the most rewarding things to share with someone. Through all the successes and failures, he and I have had one another's back.
What was the best piece of advice you've received along the way of entrepreneurship?
Natalie Kassa: One of the speakers that came and spoke to us in the Entrepreneurship program said something that really stuck with me. He said to, "underpromise and overdeliver." This is something that I constantly keep in mind and uphold within my own business practices. I believe it is the foundation of a great business, one in which you go above and beyond what you say you'll do in order to exceed the customers' expectations.
What advice would you give to a student who has no entrepreneurship experience and wants to start a business?
Ty Irving: Start talking to people. No one is going to bite on a business idea if you don't throw a hook in the water. Obviously, you need a juicy worm on the end of the line to attract consumers. Networking and creating a web of connections is so important. Like the old saying goes, it's not what you know, it's who you know.
Natalie Kassa: Make connections. Use your resources. Be optimistic. Accept feedback. Be adaptable. Be patient. These are just a few of the things that I have learned throughout this process.
Anything else you want to share about entrepreneurship or the EIR program at Carroll?
Joe Stoutt: The Entrepreneur in Residence program is one of the most valuable programs at Carroll in my opinion. If more students buy into the program the way Ty and I have, the program and the business department will continue to flourish. We definitely would encourage any students who have an idea that they truly believe in to enroll in the program, and give it a good ol' college try. You may surprise yourselves, the same way Ty and I have.