Professional Staff
Zack Eckerdt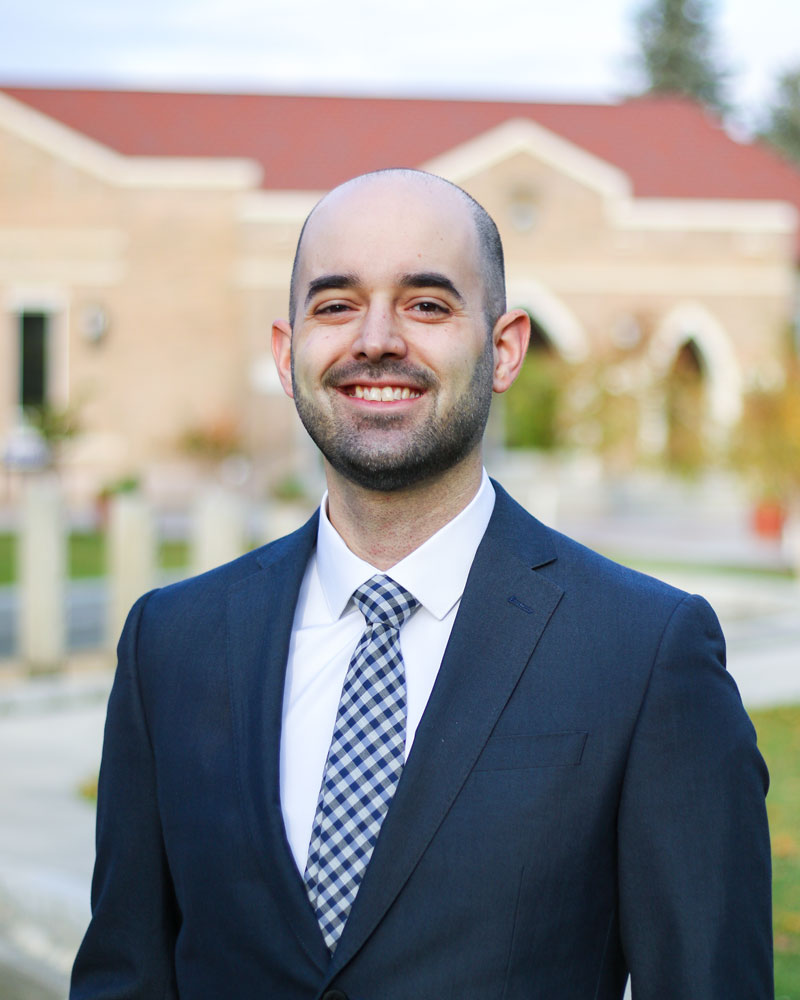 Assistant Dean of Students and Director of Residential Life & Housing
Contact: (406) 447-5509; zeckerdt@carroll.edu
Zack Eckerdt is new to Carroll College, joining in July of 2021. However, he started his professional journey in Student Affairs and Residential Life in 2008, and brings practices from multiple institutions. He is passionate about developing co-curricular programs that help connect students' lived experiences to their coursework, and the world beyond graduation. He believes that the value of on campus living is found in doing life with other people, discovering the leader within oneself, and embracing transformative experiences through community. Zack holds a Bachelor of Arts in Organizational Communication, and a Masters of Science in Adult/Organizational Learning & Leadership.
Zack's family also joins him in on campus living, with his wife and 4 children being a part of the Carroll community. Additionally, he enjoys keeping up on tech trends, devouring podcasts, hunting out the best local food, enjoying a good trail, and playing the best board games you've never heard of.
Zack shares that you should ask him about:
Engaging in Student Leadership on Campus
Housing Contracts and Billing Questions
Systems of Support at Carroll College
Servant Based & Strengths Based Leadership
Transformational Learning Theory
Team Building and Leadership Development
Great board game recommendations
Darby Waldbillig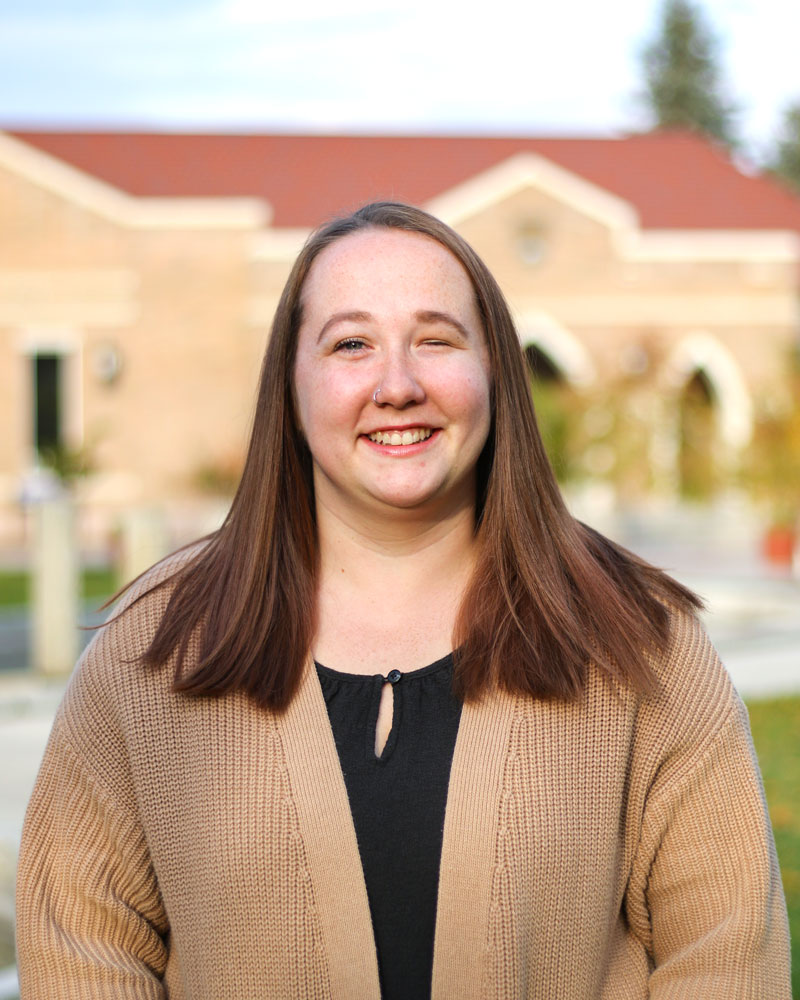 Area Coordinator: Guadalupe Hall and Borromeo Hall.
Contact: (406) 447-4424; dwaldbillig@carroll.edu
Originally from the Bitterroot Valley in Western Montana, Darby Waldbillig is new to Carroll College, joining in August of 2021. In 2016, she received her Bachelor of Arts in Political Science at Montana State University- Bozeman. While a student at MSU, Darby found a passion for Residence Life and on-campus living. She served in multiple roles over the course of five years, most recently serving as the Break and Summer Housing Coordinator. In 2018, Darby moved to Baker, Montana for her husband's career, where she gained invaluable work experience outside of student affairs. 
Darby is excited to return to student affairs and higher education. Her passions include helping students create their own college experience in and outside of the classroom, fostering equitable and inclusive communities, and developing opportunities for students to make interpersonal connections and find their place at Carroll College and beyond. 
Darby's family joins her in on-campus living, with her husband and daughter being part of the Carroll community. Outside of work, Darby enjoys spending time with her family, enjoying Montana's natural beauty, completing jigsaw puzzles, and finding all the best local hangouts.  
Darby shares that you ask her about 
Student leadership and engagement opportunities on campus 
Housing Contracts and Billing questions 
Life on campus, especially within Guadalupe and St. Charles Halls
Support Resources across Carroll's Campus 
Things to do around Western Montana.
Time Management and self-care strategies
Pictures of her daughter, Siobhan
Cameron Ferguson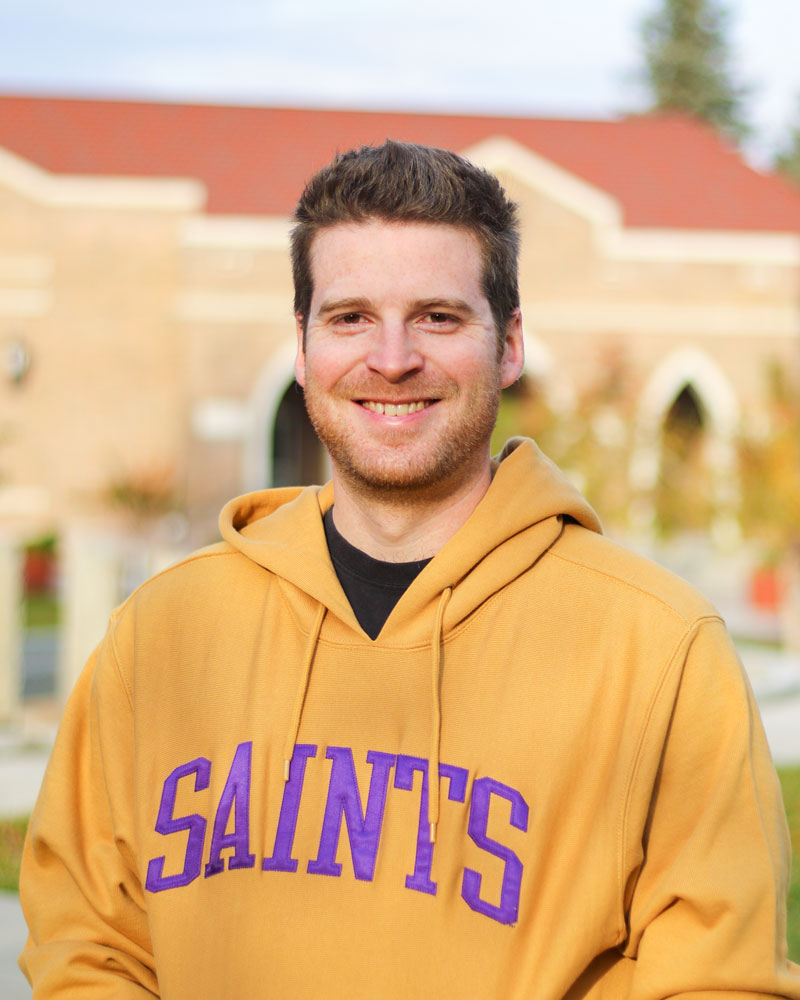 Area Coordinator: Trinity Hall, St. Charles Hall, and the Campus Apartments
Contact: (406) 447-4419; cferguson@carroll.edu
Cameron Ferguson is new to Carroll College, joining in August of 2021. In 2019, he received his Ph.D. from the University of Chicago Divinity School with a specialization in New Testament and Early Christian Literature. Though new to Student Life, Cameron has extensive experience in higher education, both as a faculty member and as an administrator. He has held a wide range of teaching posts related to New Testament studies; he is trained as a writing instructor (having served as a Writing Specialist at the University of Chicago's Writing Center); he ran the University of Chicago Divinity School's Craft of Teaching Program (designed to facilitate dialogue around best teaching practices in the academic study of religion); and he has held multiple student-leadership positions, including as the University of Chicago Divinity Students Association (DSA) president. Cameron looks forward to joining a community at Carroll where students, faculty, and staff can learn and grow together, and he hopes to make a positive impact, however small, upon those who have made the wonderful choice to call Carroll College and Helena, Montana their home!
Cam shares that you should ask him about:
Student Leadership opportunities on Campus
Campus life, especially as expressed within Trinity and Borromeo Halls, as well as the Campus Apartments
Housing and apartment contracts
Campus resources (facilities, academic, and wellness)
Best practices in study, research, and academic writing
The ancient history and development of Christianity
The names of any and all ANZ foster dogs on Campus
Resident Assistants
Resident Assistants (or RAs) are responsible for cultivating floor and building community, representing the college to the students, and ensuring that community standards and the Student Code of Conduct are followed. Resident Assistants take the time to get to know their residents, help them with problems, and make sure their Carroll educational experience is a positive one. Contacting an RA on campus is easy. Students will find RA contact info on the back of their student I.D. Cards, within the ResLife office (Borro 131) and in the lobby of their residence halls. Indeed, a simple walk around the building will usually find at least one RA ready to assist their residents!
In addition to having a Resident Assistant on each floor, each staff has an RA with extra administrative responsibilities called a Senior Resident Assistant, or SRA. SRAs also help to serve on our Senior Staff On Call rotation.
Campus Apartments
Our campus apartments have Student Building Managers to help you with all of your facility needs, as well as to help you keep in touch with the campus community and the surrounding area. If you have any issues with your apartment experience, let the Student Building Managers know by sending an email!
Contact Us
ResLife & Housing Office: (406) 447-4532
reslife@carroll.edu
Securitas Security Team: (406) 461-7611