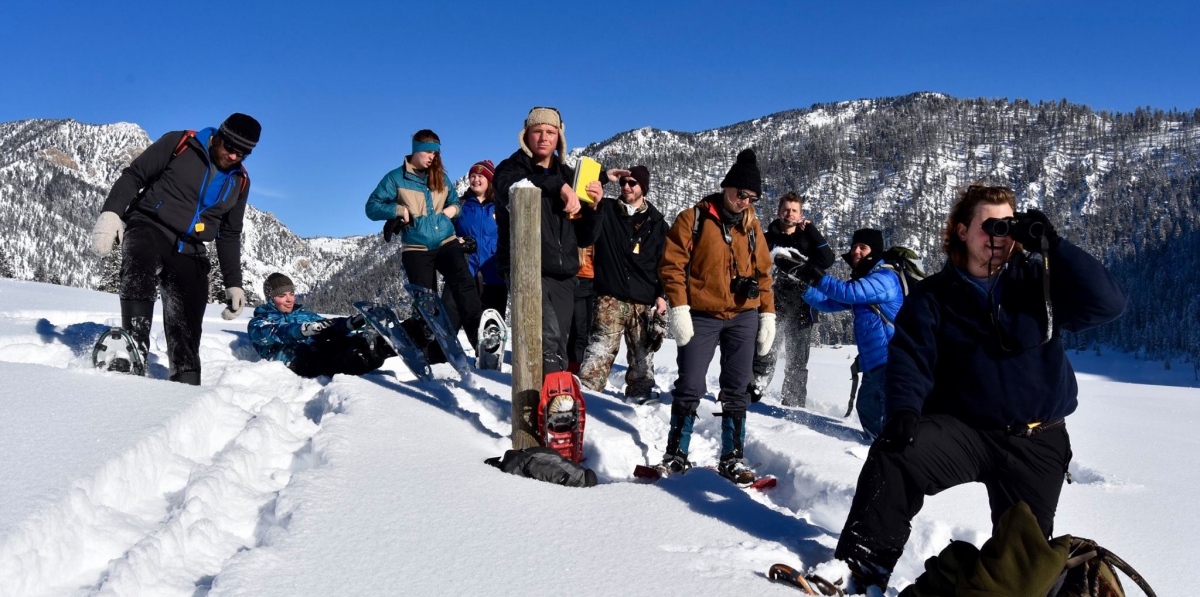 M
any Americans make a summer pilgrimage to Yellowstone National Park to witness the grandeur, oddities, and legends of Mother Nature. Most often it is with our parents and siblings on a car trip from our hometowns in the Rocky Mountain West or, for many brave travelers, a cross-country road trip. Sights such as the world-famous Old Faithful geyser, the waterfalls of Yellowstone's Grand Canyon, the smell of sulphur at the Norris Geyser Basin and the rainbow hues of Grand Prismatic Springs are on most of our bucket lists. As we journey from point to point, we count ourselves lucky to spot bison, bears, moose, and wolves when we stop in a Yellowstone traffic jam, along with fellow travelers sporting spotting scopes and telephoto lenses.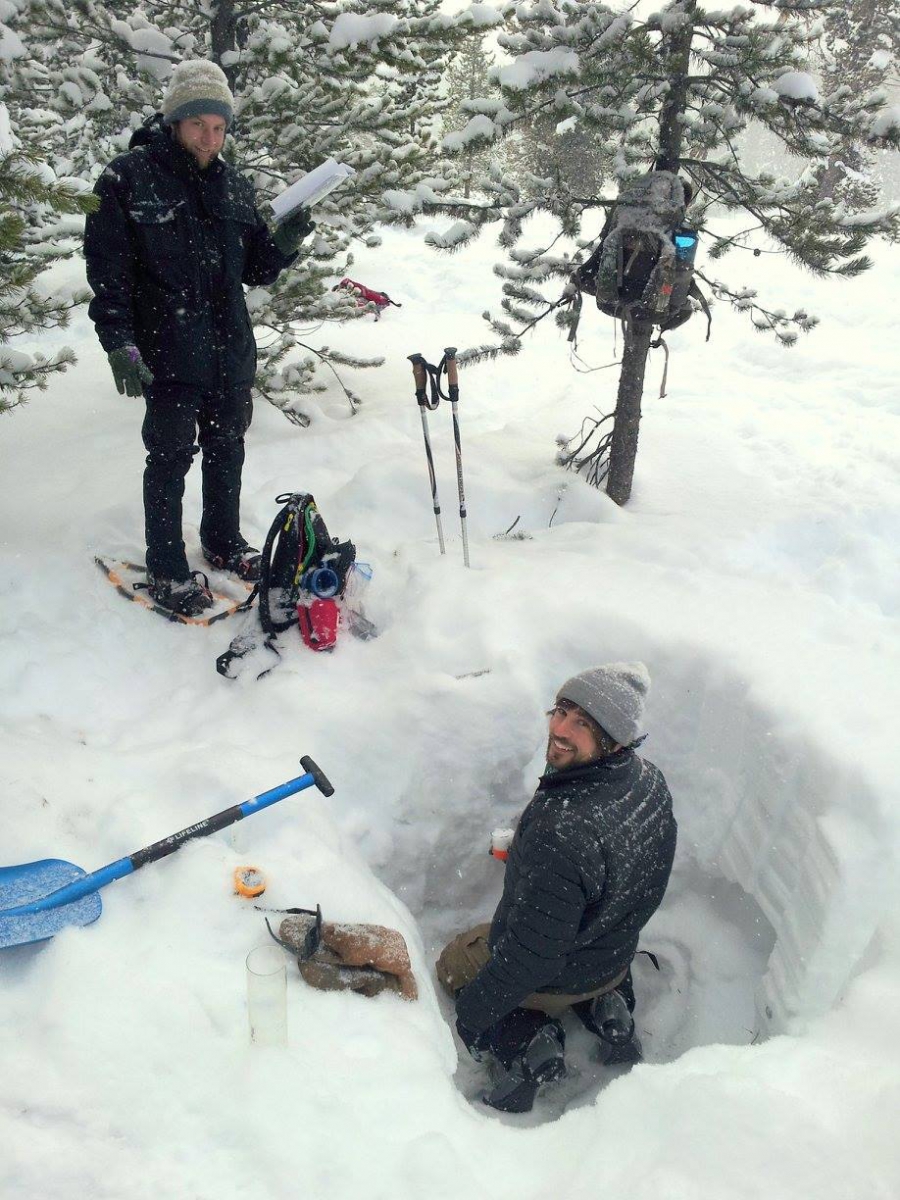 What most of us miss in our whirlwind tour of America's first national park is the diversity and interconnectedness of the living organisms in what is known as the greater Yellowstone ecosystem—an area stretching from Interstate 90 in the north to the Tetons in the south, and from the Snake River basin in the west to the Rocky Mountain plains in the east. Most travelers rarely get to experience Yellowstone in the winter months, which lasts from mid-November through mid-April. The harsh and bitter cold climate creates unique challenges for the biology found in the Yellowstone ecosystem and because of these challenges, very few biologists venture into the field to study how life survives Yellowstone's extreme winter months.
Carroll College environmental science professors Dr. Grant Hokit and Dr. Patricia Heiser, decided it was time to overcome these challenges and to learn more about the amazing organisms who not only survive but thrive in Yellowstone's extreme climate. In 2015, they created a unique course for their students to explore this ecosystem located in Carroll's backyard and study the relationships between living organisms and their winter environment. The course begins with a two-week immersion experience in Yellowstone National Park where students are taught the skills to navigate field study during the winter and a broad study of the biology found in the Yellowstone and Rocky Mountain regions.
The idea for this class came from three learning objectives set forth by the environmental studies program: the need to provide students a learning experience far beyond what they can be taught in the classroom or lab; an opportunity to discover new insights into a unique ecosystem and how biological organisms respond to winter conditions; and additional opportunities for integrating skills (study design, data analysis, field sampling) that are transferable across disciplines.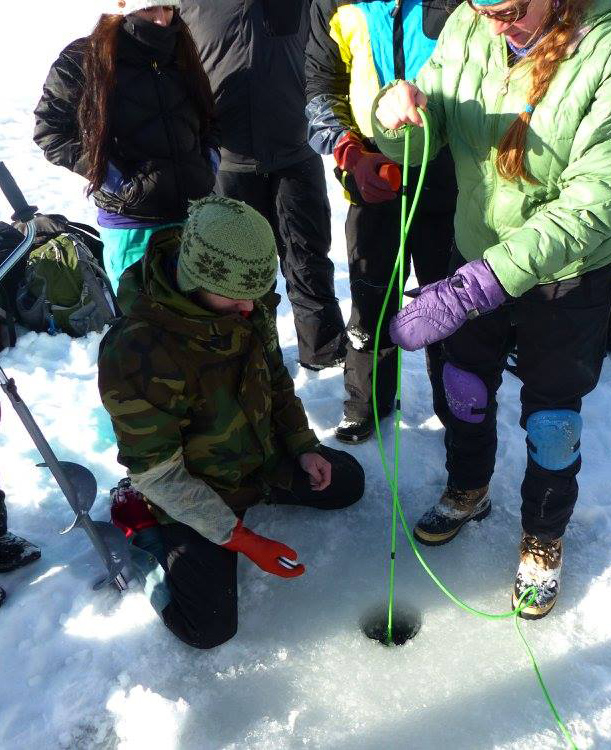 To meet these objectives, students and faculty stay at the Yellowstone Study Center in West Yellowstone for their two weeks in the field. Accommodations at the center are provided through a cooperative agreement with the West Yellowstone Chamber of Commerce. "This is the perfect basecamp for us," said Dr. Hokit. "It has kitchen facilities, indoor winter camping on cots, and two classrooms for indoor instruction. We take most provisions with us and students participate in cooking meals each day. There are separate activities each morning and afternoon—both are outdoors. In the evening, students gather for learning activities in the study center's classroom."
This past spring was the second year of the course which had 12 students participating: four majoring in environmental programs, three in anthrozoology, two in biology, two in engineering, and one senior citizen who audited the course. Any student who has completed a natural science course is eligible to participate.
"I am eternally surprised by the response of the students to the environment," shared Dr. Hokit. "The things some of us from Montana take for granted—such as seeing a herd of bison, elk or pair of swans just outside the snowcoach—are seen anew when witnessing students respond to the landscape and the wildlife they have never experienced before."
I admire the adventurousness of our students and their willingness to try things far outside of their comfort zone. We teach them how to build a quinzee hut snow shelter and then offer them the opportunity to spend the night in their newly constructed shelter. Several choose to do it, including some who have never camped a night in their life. Their first camping experience is a night in a hut during a Yellowstone winter.
Professor Hokit smiles as he remembers an encounter while teaching the students animal tracking, "As I was showing the students how to recognize moose, elk, deer, and bison tracks, I looked up to see a moose about 30 yards away, making his entrance right on cue for my lecture."
Other activities in Yellowstone include learning to traverse the snow, either by skiing or snowshoeing, avalanche hazard training, and overnight survival skills. The Yellowstone training provides skills that will enable students to design their own projects and carry them out during winter conditions.

T
he two months following their excursion, students work on a project of their choice in the Northern Rocky Mountain Ecoregion. This year, several students worked in the Helena National Forest along the Continental Divide. Research projects addressed climate and climate change, snow characteristics, and digging snow pits and measuring the stratification of snow along the Continental Divide. Others observed animal migration and hibernation, behavioral and physiological tolerance adaptations of plants and animals, and weather patterns found in the area. Some focused on surveys: conducting track surveys for carnivores—wolverines, mountain lions, and coyotes—on MacDonald and Stemple passes; and browsing surveys—studying how animals browse for vegetation; and setting camera traps to identify wildlife—what areas they use and the topography of those areas— from valley to the Continental Divide. Other student projects focused on Lake Helena— taking surveys on the depth, formation, structure, breakup, and melting of the ice.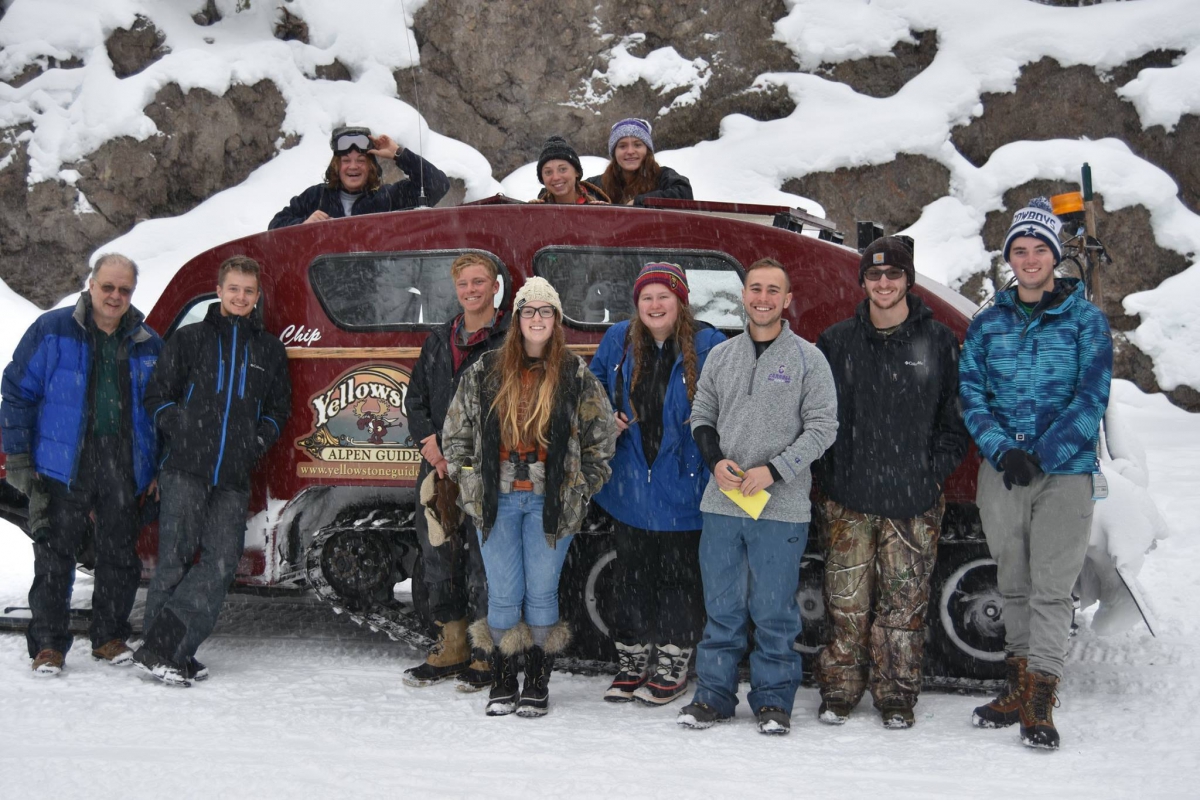 Following their fieldwork, students are required to write a data paper, which is different than a lab paper. These are meant to be a living project so future students can pick up where the student before them left off. Students in one year can establish these projects and the methodology, and then students from subsequent years can continue the study, providing additional data.
These experiential ecology courses are not confined to winter or even Montana. Next summer, professors Hokit and Heiser will conduct a similar course, exploring Montana's natural history by taking students from Yellowstone to Glacier National Parks via the plains of Montana. This three-week course provides an integrated field experience in Montana's diverse natural laboratory—from grasslands to high altitude. The course combines life and physical science, field techniques, scientific observation and measurements, and plant and animal identification.
 For students wanting a very different environment to study, the winter course will alternate years between Yellowstone and Ecuador. Beginning next January and running up to spring break, Dr. Hokit will conduct a tropical ecology course in Puerto Quito, Ecuador, at a self-sustaining farm that uses Incan farming technology. "The farm is in between the Ecuadoran altiplano and coastline," said Dr. Hokit, "providing a diverse tropical ecosystem for our students to encounter." Through excursions from the farm, students will study plants and animals in the alpine zone, cloud forests, lowland jungles, and desert coastal scrub. In a final analysis, students will compare species diversity between the Northern Rockies and the equatorial tropics to better appreciate why Ecuador is recognized as one of the greatest biological hotspots on our planet.
Whether they are studying a unique ecosystem close to home or one half a world away, Carroll environmental program students are going beyond the classroom and challenging their own expectations of themselves and the world they are preparing to understand and care for.